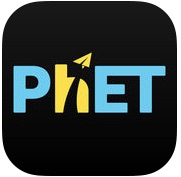 Cost: Part of CatPack App Pack
iTunes Link: PhET Interactive Simulations
The PhET Interactive Simulations app gives easy access to the science and math simulations produced by the University of Colorado.  As they convert more and more of their collection of simulations to HTML5, they will be automatically added to this app.  A great science and math resource!
Online Help and Tutorials
Official PhET Website
This website has all of the simulations listed.  Click on a simulation to access additional teaching resources and information on each simulation.