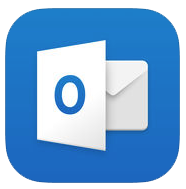 Cost: Free
iTunes Link: Outlook
Every Brookswood student has their own school district email account that will be used to communicate with staff and students in the CatPack.  The Outlook app allows you to keep your school email separate from your personal email and allows you to access the school district directory for easy addressing of emails.
How to Set up the Outlook app to Access Your School District Email Account
When you launch the app for the first time you will click a "Get Started" button and then be asked to choose whether you want notifications turned on or off.
On the next screen you will enter your District Office 365 email address and then click on "Add Account"
Next you will enter your school network password (the one you log onto computers with) and click on "Sign in"
You can choose to add a second account if you have one and then it will open to your mailbox.
Remember that email addresses ending in @langleyschools.ca belong to students and those ending in @sd35.bc.ca belong to staff.