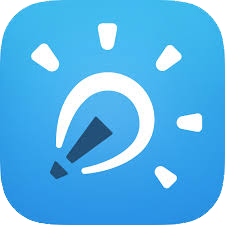 Cost: Part of CatPack App Pack
iTunes Link: Explain Everything
Explain Everything is an screen casting and interactive whiteboard tool that allows you to share your learning by allowing you to annotate, animate, narrate almost anything by importing it into the app and then exporting the finished product.  Explain Everything has the power to allow you to produce more creative and complex projects as your skills grow, yet lets you get started creating content with only a small amount of learning the app.
Online Help and Tutorials
Explain Everything Tutorials
An excellent collection of video tutorials on all aspects of Explain Everything from the creators of the app.
Creating Educational Screencasts With Explain Everything
A guide to getting started on your first screencast using Explain Everythingh from the author's of the "Dummies Guide Book" series
Explain Everything Lesson Ideas
Part of the Apps in the Classroom series created by Apple to give teachers examples of how to integrate technology into the classroom.
Explain Everything also has a free desktop player app for the Mac which allows you to play Explain Everything files directly without converting them to another format.  This app is not used as part of the CatPack program but may be useful to some students.  It is available on the Mac App Store