In this edition
• STUDENT PHILANTHROPY • IN THE CLASSROOM• GRAD NEWS/EVENTS •
• ALUMNI NEWS • CLUB NEWS • HPV INFO •
• FABULOUS FRIDAYS •EMERGENCY PREPAREDNESS •
• BOBCAT DATES & EVENTS •
October has hit the halfway point, and here at BSS that means interim reports, cooler weather and Halloween fun on the horizon!  As we approach mid-month, we want to first off thank parents and students for their diligence in adhering to the new/revised traffic policies!  We hope that you have noticed the efficiency of these changes in your morning routines – let's keep up these changes to continue to see morning/afternoon traffic be safe and efficient for students and parent drivers alike.  We have also begun some of our school's many social responsibility/philanthropy initiatives–read on for more information about what's happening.
STUDENT PHILANTHROPY/TERRY FOX RUN
PE Leadership and Students' Council have been fundraising and raising awareness about cancer this past week leading up to our school's Terry Fox Run on October 18th.  This year, students have the opportunity to raise money not only for cancer research, but to get their teacher's participating in a fun relay obstacle course!  Students from Students' Council and PE Leadership will be coming around during Flex to collect donations, or students can donate at the office OR during the assembly!  Please consider joining our fight against cancer @BSS!
This slideshow requires JavaScript.
We do a lot of amazing outreach and philanthropy at Brookswood.  Even during the past two months, students have been raising funds and awareness for a number of causes.  Junior Leadership students raised over $300 for our school's Breakfast Club, as well as over $250 during Mental Health Awareness day with a bake sale, with proceeds going towards Encompass Support Services.  Senior Leadership students begin one of their many initiatives this week with twice-weekly visits to Gateway of Hope to volunteer!
Senior Leadership has a large-scale event happening next month and is looking for donations of prizes, big or small that they could use–if you have any, please contact the office or carmenkimm@telus.net to arrange pick-up/drop off (Subject line: BSS DONATION).
IN THE CLASSROOM
We had some excited French students this week as they attended a field trip to CORA, a local restaurant. Cora's staff speak french to our students when taking orders and serving tables. it's a great chance for students to practice their french orally while in a everyday-type setting.  Good food and good conversation!
This slideshow requires JavaScript.
GRAD NEWS/EVENTS
Grad Wear is on sale now via the student fee payment system: https://sd35.schoolcashonline.com/.  Sample sizes should be available in the next week for students to try on if they are uncertain of their size.  The deadline for ordering is October 31.
UBC is coming on October 18th at 9:35 in the library for any Grade 12s interested in learning more about attending.  Grade 11 students may also attend, with written consent from their teacher.
ALUMNI NEWS
We are very excited to report that Wayne Wapeemukwa (Robinson), a former BSS grad has won awards for his latest film, Luk' Luk'I.  He has won the City of Toronto award for best Canadian First Feature Film at TIFF and has won Best BC Feature Film Award at VIFF.  Congratulations to Wayne!  For more information: https://www.viff.org/Online/default.asp?BOparam::WScontent::loadArticle::permalink=f23376-lukluki
CLUB NEWS
The BSS Hiking Club was out and about on Monday, and had a beautiful hike on Sumas Mountain.  The Hiking Club goes on a variety of excursions throughout the school year, and is organized by Mrs. English.
HPV INFORMATION
Attached are some materials that have been created to provide parents/caregivers with information on the HPV vaccine. 
2017-HPVinfo
FABULOUS FRIDAYS
Help us promote girls supporting girls!  All female identifying students and staff are welcome to stop by Room 207 on Fridays at lunch to hang out.   This new opportunity was created by Ms. Oster in order to foster a community of strong female friendships through conversation and camaraderie.  
EMERGENCY PREPAREDNESS: SHAKE OUT WEEK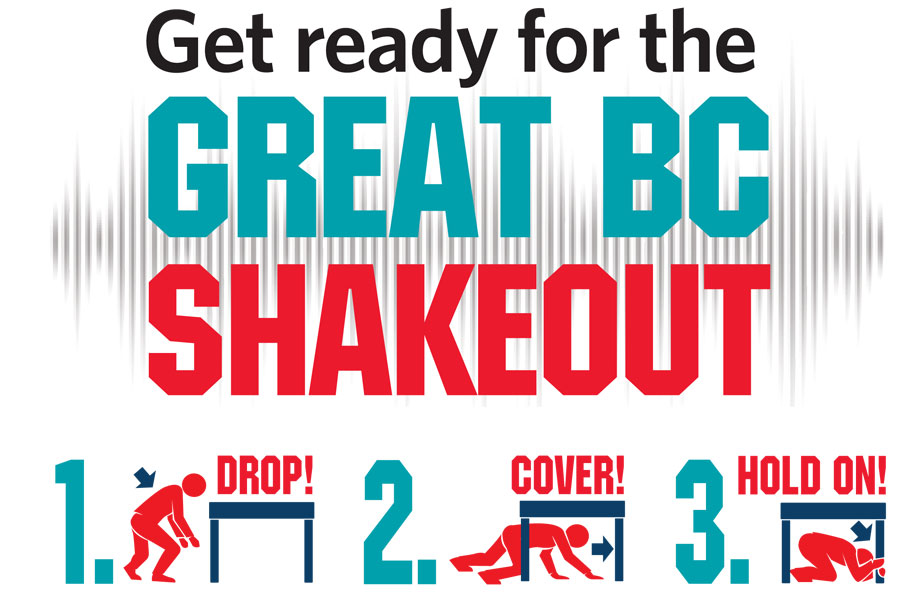 This coming week is "The Great British Columbia ShakeOut Day"! DROP! COVER! HOLD ON!   We will have our ShakeOut Earthquake Drill on Thursday, October 19th at 10:19 am.
We hope many of you had the chance this past weekend to try the earthquake simulator at the Emergency Preparedness Fair at KPU.   This week we will keep the theme. We will have an Emergency Preparedness information table set up over lunch (11:40 to 12:15) for students and teachers on Tuesday and Wednesday in the front foyer.  Parents are also welcome to drop by the table!  Students who come by the foyer at lunch have the chance to answer questions about safety and win candy (yum!).  Also at the information table, students & teachers have a chance to enter a draw for great prizes (Flashlights, "ShakeOut" T-shirts and other items).  The draw box will be open only during the 2 lunch hours.  The draw slip has the question "Do You Have A Household Emergency Plan?" which we will compare with last years draw results.  This week is an opportunity to talk to and remind your family about an emergency preparedness plan.  
The library has lots of books on display about Emergency Preparedness and Disasters.  Students can also stop by the library and pick up a ShakeOut! Bookmark.
Need more information?
Check out the "PreparedBC" web site and see the Home Preparedness Guide http://www2.gov.bc.ca/gov/content/safety/emergency-preparedness-response-recovery/preparedbc/prepare-your-home
Check out the Prepared BC – Household Preparedness Guide  http://www2.gov.bc.ca/assets/gov/public-safety-and-emergency-services/emergency-preparedness-response-recovery/embc/preparedbc/preparedbc_household_preparedness_guide_web_final_2015.pdf
Make your Plan – Prepared BC – Household Emergency Plan   http://www2.gov.bc.ca/assets/gov/public-safety-and-emergency-services/emergency-preparedness-response-recovery/embc/preparedbc/preparedbc_household_emergency_plan.pdf
Check out the "ShakeOut" web site to see what it is about and maybe register yourself or your work as a participant for this year. shakeoutbc.ca
Check out Langley Emergency Preparedness. FaceBook "Langley Emergency Program"
---
BOBCAT LINKS
LANGLEY SCHOOLS COMMUNITY BULLETIN BOARD
---
UPCOMING DATES
BOBCAT COUNTRY CALENDAR:
Oct. 18:                         Terry Fox Run     (Pawar)
Oct. 19:                         Earthquake Drill
Oct. 20:                        Pro-D Day
Oct. 23:                        Collaboration Day – Early dismissal for students
Oct. 23:                        District Choir Festival @ REMSS
Nov. 1:                          Health & Safety Lockdown drill
Nov. 1-2                       Parent-Teacher interviews
Nov.27 – Dec 1:         Grad Photos